Posted on Tuesday, October 2nd, 2007 by admin
NEJeep September 2007 Rig of the Month – Zilla's Long Arm TJ!!!
Congratulations Zilla!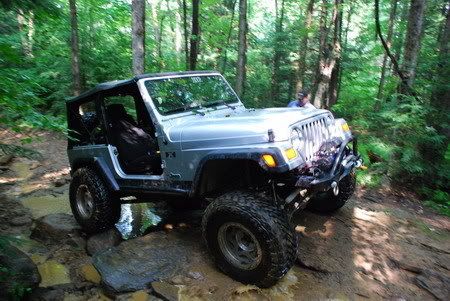 Model Jeep: Jeep Wrangler TJ X
Year: 2004 (51-K miles)
Engine: 4.0 liter in-line six cyl.
Transmission: 5-speed manual
Transfer case: Stock
Front Axle: Custom Solid (Rockcrusher) h/p 44 geared 4.88,Arb Air locker, 30 Spline Superior shafts,Ctm racing u-joints,Yukon ring and Pinion.
Rear Axle: Dana 44 geared 4.88 ARB air locker,and Superior shafts,Rear disk brake conversion,Solid diff cover Yukon Ring and Pinion
Lift: Clayton Offroad 5.5 Long Arm with a Daystar 1inch body lift.
Rims: Walker Evans Racing Beadlocks 17x 8.5
Tires: Toyo Open Country M/T's 35×12.5
Protection: Clayton Offroad oil /trans plus flat belly skid.
Misc Stuff: Rockmen Merc. Front bumpper with winch plate and aluminum fairlead, Rokmen merc.rock sliders with internal tie ins and Maglite holders.Jeeperman rear bumpper with led brake light and frame tie ins. Tom Woods Tailshaft kit and driveshaft,Tom Woods cv driveshaft,Currie complete heavy duty tie rod and drag link system,RS 5000 Steering Stabilizer, Currie Anti-Rock swaybar kit,Xlerator Big Max muffler/cat,ARB compressor,Highlift jack,Cobra 40-ch ultra III cb,and a Superwinch EPi 9.5 winch with 90 feet of Viking line with the thimble and HD hook,4-3/4 shackels and best of all a large NORTHEAST JEEP windshield sticker.