Posted on January 4th, 2011 by Rob Kolek
Please join NEJeep for our first M&G of 2011 and Support the Troops Drive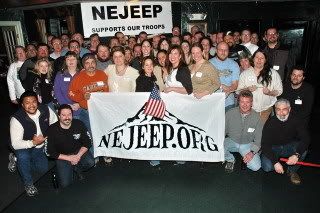 WHEN: Saturday, January 22, 2011
TIME: 8:00pm
WHERE: Murphy and Scarletti's
Location:
I-84 (East or West) to Exit 39 Route 4 Farmington
Approximately one mile to light, right onto Route 4 East
Approximately one mile to third light
Left into Exchange (directly across from UCONN Medical Center)
Left at stop sign into our parking lot.
ENTERTAINMENT:
We will have the back room which has its own pool table and a flat screen tv showing wheeling videos. The band for that night is Feed the Animals. Drink Special: $2.50 Miller Light bottles. NEJeep will have a 50/50 raffle and some great prizes to raffle off as well

SUPPORT OUR TROOPS DRIVE:
Please consider picking up 1, 2 or more of the items from this LIST. We will provide NEJeep cards again for you to write a personal message and suggestion sheets if you aren't sure what to say.
All you have to do is bring stuff. NEJeep will haul it and take care of getting it to the troops. Please let us know if you have any questions

Please note: NEJeep will be holding its Annual Meeting of Members immediately prior to the start of the M&G. We hope not to run over but if we do, the doors to the back room will be closed and will open as soon as possible.
Thanks and hope to see everyone at Murphy & Scarletti's